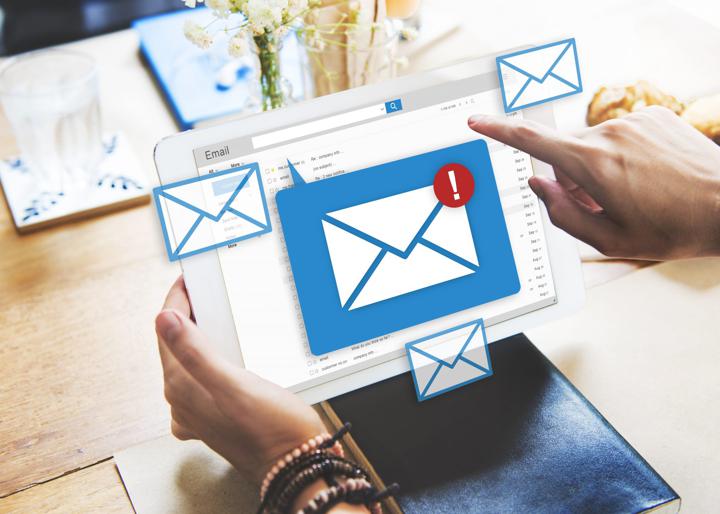 Various businesses are now focusing on multiple outreach strategies to increase their prospect flow. Getting the right set of prospects has become a challenge today as people have become cautious about their personal details. Fortunately, there are some best email finding tools available that can help you land the right prospect with all their important details on the table to maximize your outreach.
What is an email finder?
The tools to find email addresses are the software that helps easy acquisition of email addresses published on the web at any certain point in time. These have primarily been published to meet outreach purposes, and these email finder tools can access them through parsing the HTML webpages.
How can the email finder tool help you?
The best email finder tools are crucial for a business in many ways like:
Helps generate new and authentic leads.
Helps business grow on a positive graph.
Helps increase email open rates.
Check out the Best email finding tools of 2021
If there exists email addresses, these email finders are going to find them for you.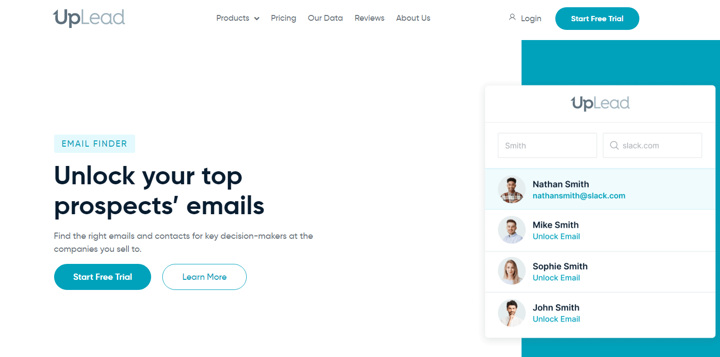 Uplead is a company email finder with a concrete database of over 46 million updated profiles. It is the best place to begin your search for quality leads.
Over 50 filters help businesses settle with the right profiles.
Real-time verified data provides accurate contact details.
Facility to enrich existing database through the tool-driven data.
Allows integration with popular CRMs to help you find company email addresses that you want.
Easy Chrome extension help scrapes accurate data even from LinkedIn.
The email finder tool comes with a 7-day free trial and 5 free credits.
The basic plan costs about $99 a month with 200 credits.
The professional plan costs $399 a month with a 1500 credits option and unlimited user ability.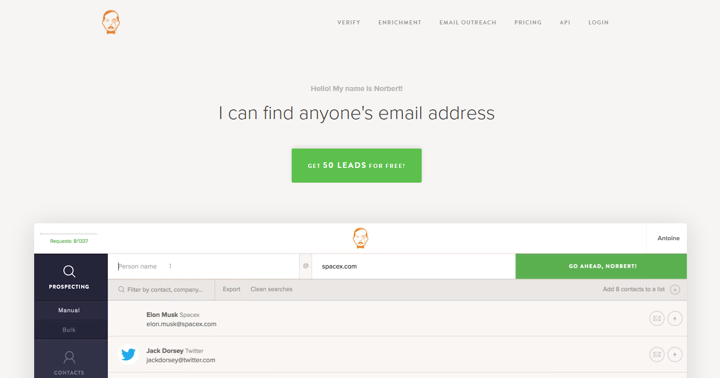 You can now easily find corporate email addresses with the help of Voila Norbert. Enrich the contact lists to get in touch with the eminent decision-makers quickly.
Email addresses are validated on a real-time basis.
Reduces bounce rates.
Improves sender reputation.
98% success rate delivery.
Comprehensive B2B contact database.
An added benefit of a Chrome extension for finding contacts while browsing.
First-time users can find email address by domain with 50 free leads.
Paid plans start at $49 a month with 1000 leads with a Valet upgrade.
The Counsellor plan starts at $499 a month with up to 50,000 leads.
There are also pay-as-you-go plans along with verification and enrichment options.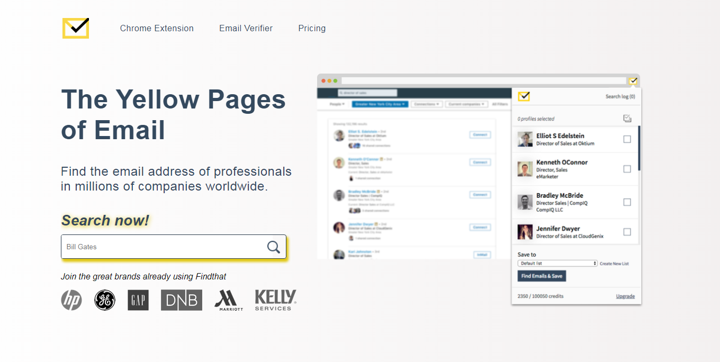 Known as the "Yellow pages of Email," Findthat is one of the best email finder tools to help businesses instantly get access to the email addresses they have been looking for. It lets you access the details of millions of international professionals.
Offers bulk email service.
The tool allows uploading a list of names that are returned with a list of email addresses.
It is regularly updated with the latest and most reliable data sources. 
No public data is scraped.
No guesswork on potential emails.
Removes every incorrect record immediately.
Every email is assigned a confidence score to assure its reliability.
The free plan is available with 100 credit verifications and 50 find credits every month.
Paid plans start from $29 a month for individual requirements.
Team plans start at $149 a month.
Exclusive find plans are also available if you are not interested in verifying.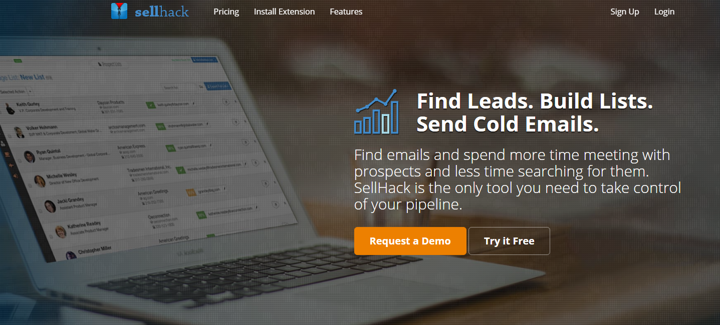 Businesses can find business email addresses with this tool, designed specifically for sales teams of varied sizes. They help you find qualified leads, verify emails, build the required email list, and sync the results with SalesForce.
Emails are verified with a 12-step process in real-time.
100% bounce protection guarantee.
You pay only for valid emails.
Plans start at $3 a month for 100 email credits.
Plan upgrades come with additional features like enhanced plugins, concurrent searches, and SalesForce integration.
Team plans start at $60 a month.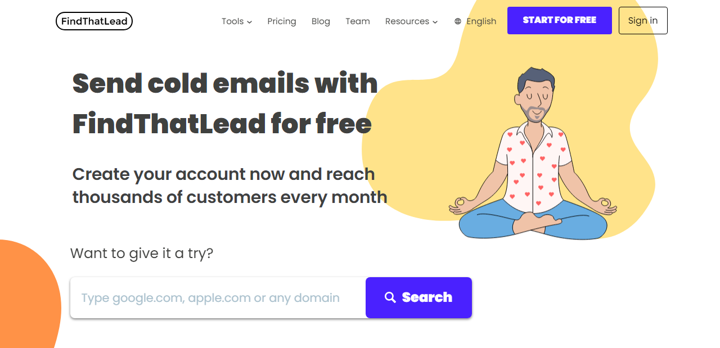 Getting an email address through FindThatLead is easier than you think. All it requires is the first name, last name, and website name to generate leads.
Great tool for start-ups and established enterprises.
Easy Chrome extension to find relevant profiles from websites as you browse.
Allows finding contact details from social URLs.
Exclusive Prospector tool feature lets you generate a list of targeted prospects based on key criteria like job title, location, and more.
Guarantees 99% bounce rate protection.
Offer free plans with 50 monthly credits.
Paid plans start at $49 a month with access to bulk processing and prospector tool.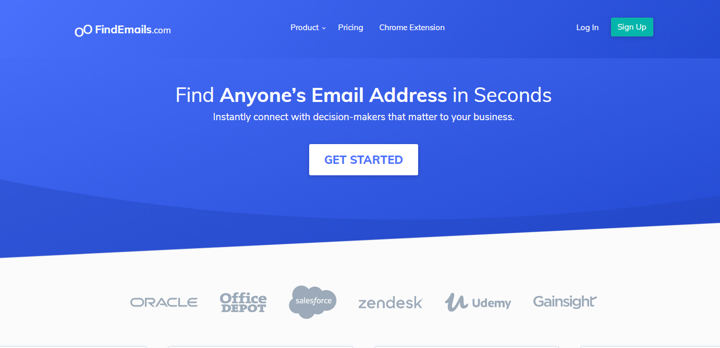 Findemails.com is the best email finder tool that can help you find emails that are valid and verified. There are multiple methods of searching emails with this tool.
Businesses can search through the name of the company, individual, job, role or domain search.
A bulk email search feature is also available.
You can also use Chrome extension on company websites.
You can search through APIs as well.
Mailserver tests are run to check email authenticity and reduce bounce rates.
The tool also features a marketplace for lead lists for buying and selling verified lists with other members.
Pricing models start from $29 a month for 1000 credits, including all the features.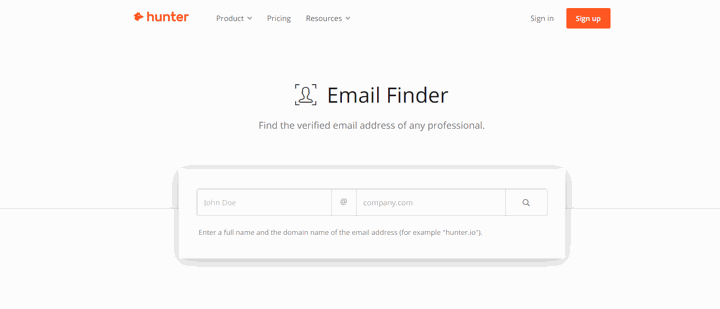 Knowing your target company is enough for Hunter to find you its email address. In addition, its domain search feature lets you find business emails of all the people working in that company.
Allows bulk email checks through company names.
Conducts complete email verification.
The source of the emails is also verified.
You can choose to search only personal emails or only role-based emails.
Allow email searches on common patterns.
The free plan allows processing 50 requests a month.
Premium paid plans start from $49 a month.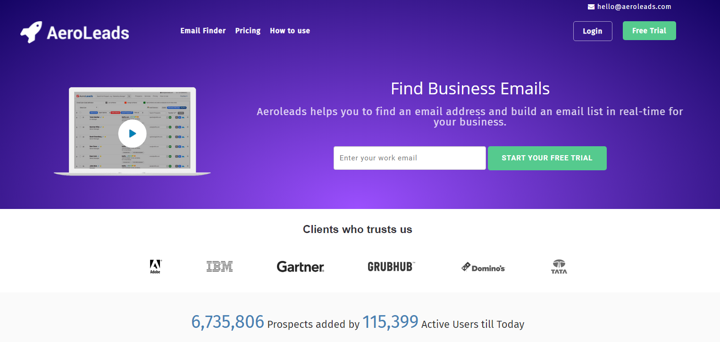 You can find company emails and details about the decision-makers in your target market using AeroLeads.
The tool can find the email addresses as well as the phone numbers of the targets.
Other features allow searching for job titles, location, and company domain.
Chrome extension can help you find potential leads online.
Data can be exported to .csv.
One-click direct CRM transfer is also available.
The monthly plan starts from $49 for 1000 credits.
The priced up plan is $149 that allows you to transfer data to your CRM and have up to 5 users.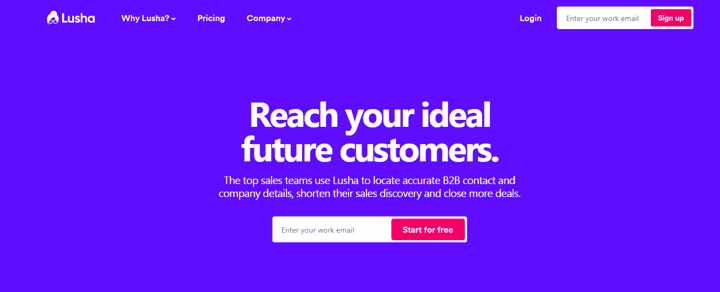 Counted among the best email finder tools, Lusha allows you to find all the latest information about your target.
Its chrome extension lets you thoroughly search through social network profile pages for all the info.
Easily create or update existing content on CRM.
The tool smoothly integrates with your current tech-stack, keeping all the data in sync between all your tools.
Allows easy contact enrichment to fill in missing data details.
Offer pay-as-you-go models for both solo operators and business teams.
The free plan offers 5 credits per user per month.
The premium plan is available at $49 per user a month with features like data export and the ability to save to CRM.
The enterprise pricing model is available at $69 a month with real-time CRM enrichment.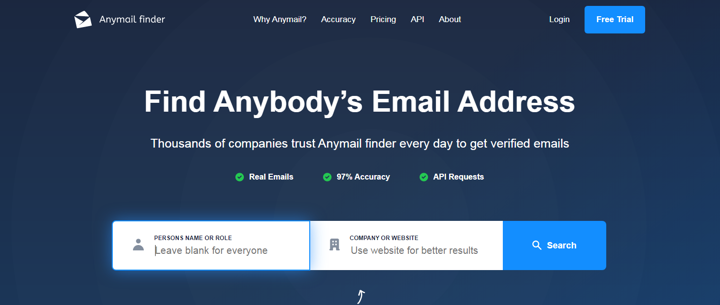 Anymail Finder is a true value for money and also the best tool to find email addresses.
Charges only for the mails that are directly validated by the server.
Emails that are not server-validated are given for free.
Offers bulk email search with the capacity to upload up to 50,000 names or job titles, or company names.
You can see a number of real emails found and can even download one or two to check their authenticity before paying for them.
Its free trial comes with 20 verified emails.
Paid plans start at $49 a month for 1000 verified emails.
Unused credits in monthly plans can be rolled over till the time you are a subscriber.
All packages have all the features enabled.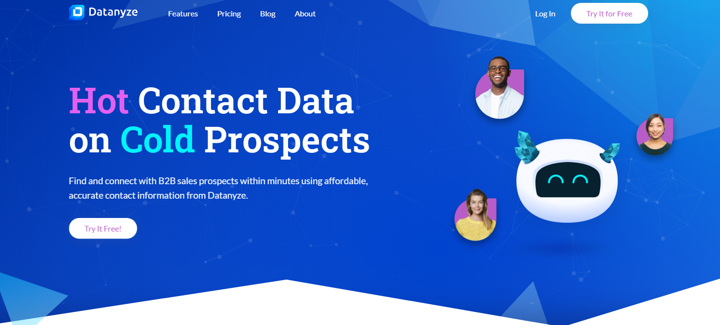 It is a great tool to find email address by company name. It updates its database on a real-time basis to facilitate current and valid information.
Chrome extension helps scrap company details through their website instantly.
You can quickly know the revenue details, employee details, and current technology of your target company.
No email guesswork; only authentic are listed.
List-builder helps create and update new contacts.
This website email finder lets you pull out the target's social media details, lead information as well as their email address.
You can access information in any format, directly export contacts to your CRM, or directly into your chosen sales automation platform.
To use this extension, the business needs to sign-up in ZoomInfo.
Best tool for enterprise-level business.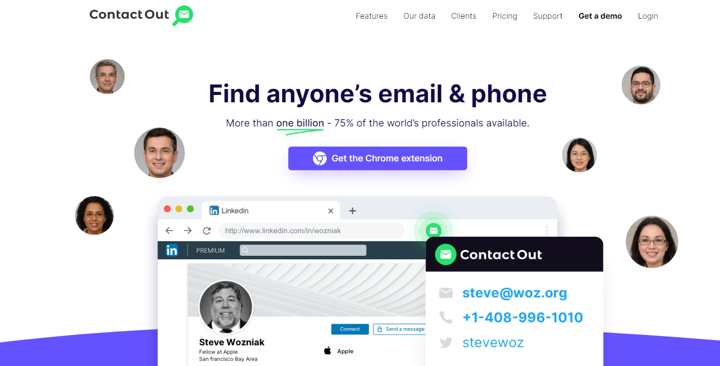 This tool is best for recruiters. However, it can be used as a bulk email finder by the sales team too.
Its Chrome extension works best in LinkedIn and Github.
Its AI engine sets it apart, making it capable of finding emails for 75% of the western world.
Lets you access and organize leads before final sharing.
You can sign up for a free trial to explore it more.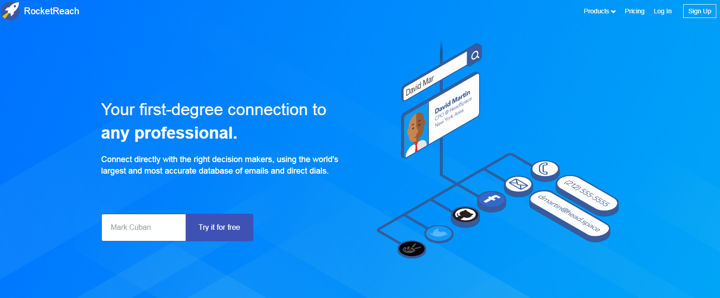 RocketReach is one of the top email finder tools that has a database that no competitor can match. Its database consists of 430 million verified data of professionals present across 17 million companies globally.
Easy integration with your CRM and verify emails with 98% accuracy.
A bulk email finder that lets you access both personal and professional data.
You can also use their search function with over 100 advanced filters to narrow down your search results.
Its powerful enrichment capabilities are another plus.
Its pricing model involves annual billing.
Plans normally are rated at £31 a month for 1500 lookups a year.
Plans are customizable and scalable.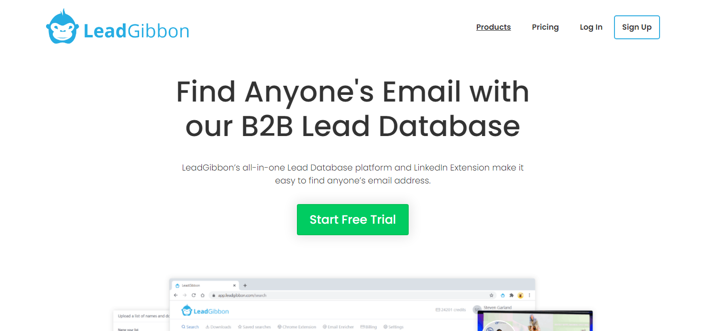 It has a comprehensive lead database and is one of the best email finder tools. You can find data for companies in the United Kingdom, the United States of America, Canada, and France.
Lets you find potential leads matching your criteria quickly.
You can use its email finder feature to get verified email addresses based on names and domains.
Its Chrome extension helps Sales Navigator users with valid email addresses while allowing you to sync them with Google Drive.
Reduced bounce rates.
Offers only verified leads and increases open rates by 95%.
Plans start at $49 a month with 1000 credits availability.
Unused credits are rolled over to the next month.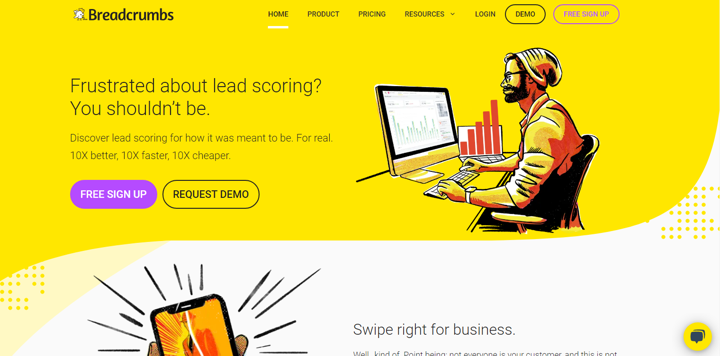 It is a free email finder tool that is a go-to choice for both individual operators and entrepreneurs. 
Can validate individual email addresses.
You can connect your contact list via Hubspot also.
Great for start-ups who have just started with an email verification process.
Easy and quick email verification.
No limit on the number of email addresses verification.
Improved bounce rates.
Vocus.io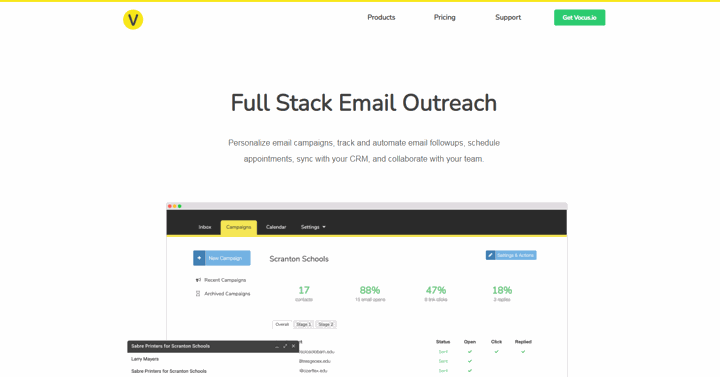 It is a popular email finder tool that conducts a highly targeted search and creates a list of recently updated or verified contacts.
Its Gmail extension helps you find any email addresses using the name and domain name.
Offers an accurate targeted search with quality leads.
You can use names and domain names to find your potential leads.
Extensive email verification extracts the right data.
You can schedule emails, track emails, merge emails, and set reminders.
Offers a 30-day trial period to first-time users.
Paid plans start from $5 a month.
SignalHire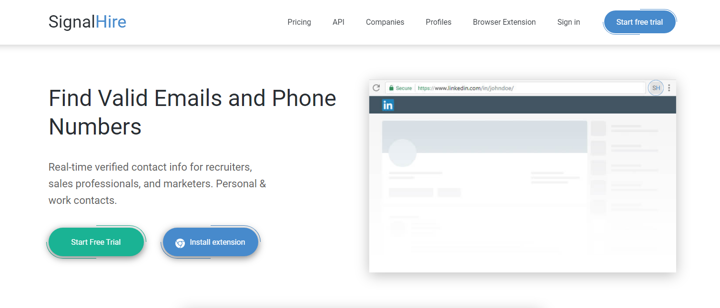 It is a corporate email address finder that is also a talent sourcing platform. With multiple plugins, it extracts exactly the information you need.
Chrome plugin can help draw out data from social media websites.
You can find prospects based on demographics.
It has a 100% hit rate in extracting verified emails.
Besides emails, it can also extract phone numbers, other media links, Skype IDs, and other popular messengers.
You can send instant emails from its dashboard.
Details can be extracted to .csv.
Details and data can be exported to ATS.
Better inbox and open rates.
Almost negative bounce rates.
Monthly plans start from $39 a month.
Annual plans start from $29 a month.
Skrapp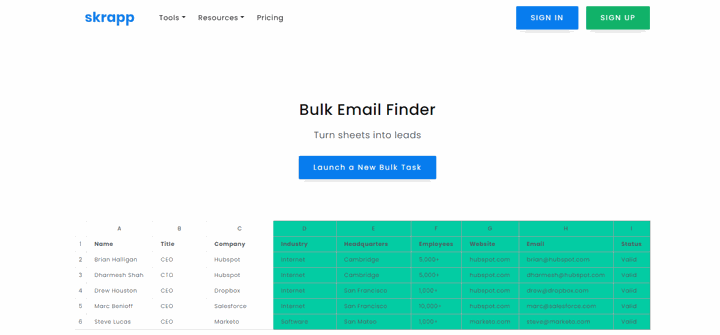 This company email address finder is a preferred choice of every large corporate. Companies like Oracle, Cisco, Siemens, Adobe, and others find it very affordable, efficient, and user-friendly.
Its Chrome extension makes finding email addresses a lot easier.
Start-ups can also use it with ease.
It lets you add a Find Email Button to the prospect's LinkedIn profile page.
Existing files can be imported into .csv databases.
Easy access to data through Cloud server integration.
Lets you sync the lead directory with your choice of CRM or the email service provider.
Offers faster workflow and flexible prospecting.
The free plan allows 150 emails a month.
Paid plans begin at $39 a month.
Snovio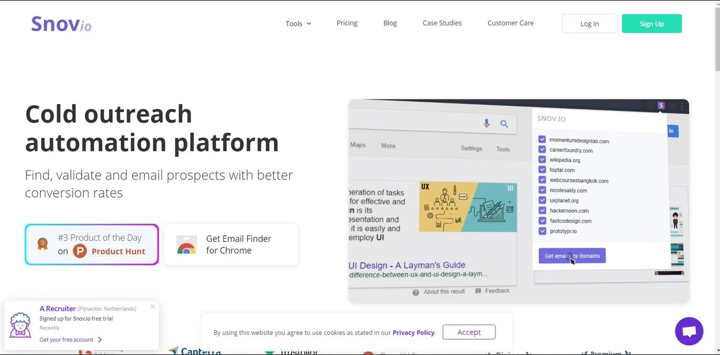 It is a great tool to smoothen the outbound research process and to get emails from websites. The speed of the tool has made it a popular choice.
You can extract email addresses along with names and job positions through domains.
Lets you save email addresses from LinkedIn profiles.
The dashboard allows businesses to send emails right then.
Gives you a detailed insight into the competitor marketplace.
Offers real-time email address verifications. 
The basic free plan offers 100 credits a month.
Paid plans begin from $19 a month.
LeadMine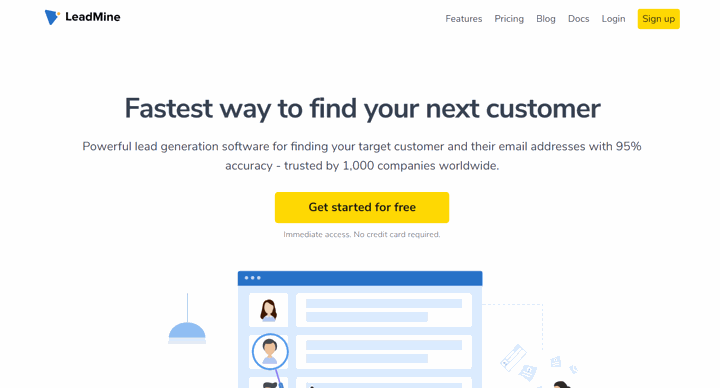 Leadmine is among the powerful email finder tools that can deliver all the necessary information about your prospects at a go. The tool helps businesses achieve:
Prospect's email address, titles, industry, company, location, and various other details.
Allows you to save lead information within a click.
Data can be exported through .csv files.
Constantly updates Lead lists.
A free joining plan offers 10 credits a month.
Paid plans start from $29 a month.
Discoverly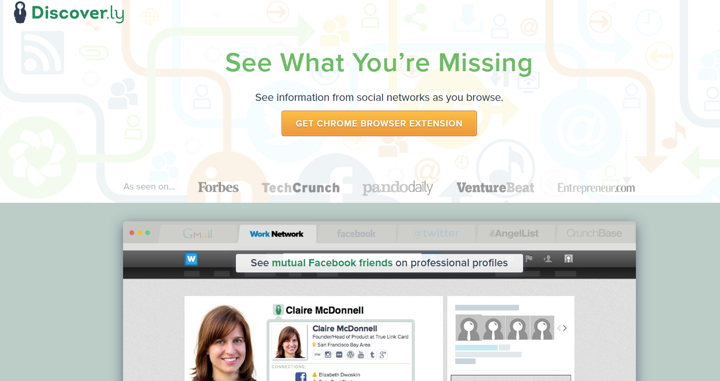 Discoverly is an email finder Chrome extension that is specifically dedicated to the recruiters and sales teams. This tool stands out in this segment because of its high efficiency in readily collecting prospect data.
Lets you scrap social information from Gmail, LinkedIn, Twitter, and Facebook through plugins.
 Quick notifications on the collected data on the sidebar.
The tool works on all the possible permutations to get you the best leads.
Collects and verifies the most accurate data.
The best free email finder tool with the highest accuracy.
Inbox open rates increase successively.
Lowers bounce rates by 97%.
Great for bulk email finding and verification.
Conclusion
In sales and marketing, every lead counts. So, make sure you get the best ones. With the help of the best email finder tools listed above, you can find the leads as per your needs. And, once you get your hands on your list of email addresses, you are all set to take off your cold email campaigns. 
Using these tools is the best way to fuel your marketing strategies and increase your email return on investment. It's time to reach out to promising prospects and drive your business growth.