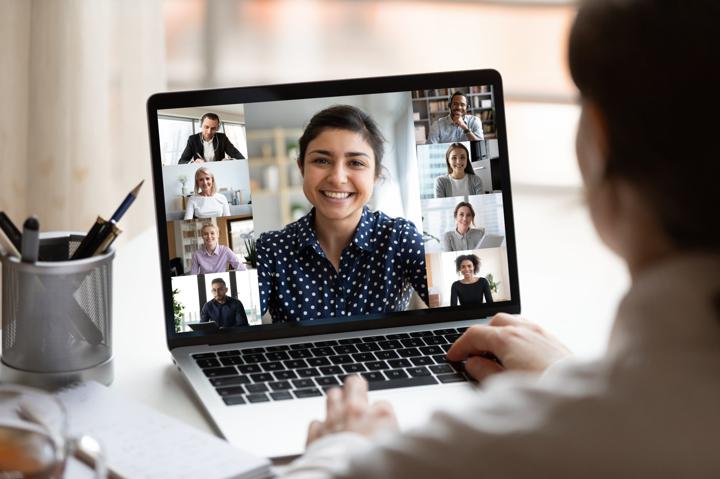 As you've no doubt noticed, 2020 has been an interesting year so far, to put it mildly. Lots of events have been canceled or postponed as a result of the coronavirus, from Burning Man to the Olympics. 
These cancellations have also applied to the conferences we all know and love. Even as lockdown is eased and we get back to work, it seems unlikely that we'll see any major conferences this year. 
However, we've already seen a number of the big conferences pivot from in-person to online virtual events. As we become more familiar with the technology and what's possible to achieve with an online event, we can expect virtual conferences to get even better and more value-packed. 
Here's our pick of the top ten virtual conferences for the rest of 2020 that you should add to your calendar now. 
When: 8th July
Price: Free
Why you should attend: Designed for leaders in sales and marketing, SaaSGrowth is an opportunity to learn from the top performers and thought leaders from around the world. With keynote speakers like Aaron Ross, Nathan Latka, and Jacco vanderKooij, you're sure to pick up new skills you can implement in your agency. 
Some of the themes they'll be covering in the 2020 virtual conference include 'Optimism for growth during crisis,' 'Developing and coaching your people,' and 'Mental health and performance.' 
Of course, a conference wouldn't be complete without an opportunity to meet new people, and SaaSGrowth gives you the chance to network with VCs, founders, and CEOs. With a truly global flavor, you'll be inspired by how people are overcoming the same sales and marketing challenges you're facing, and growing their businesses in new and exciting ways. 
When: 14th -15th July 
Price: $129
Why you should attend: If you deal with SEO in any way, (and if your work involves the internet, then it does), you'll know it can be hard enough just keeping up with the latest algorithm updates. If you want to up your game, then MozCon is the place to be. Known for providing actionable insights from the top minds in the industry, MozCon already has a great reputation for being a top conference, and now you can attend from the comfort of your own home office. 
MozCon goes far beyond basic SEO strategy, with talks for 2020 to include advice on running digital PR campaigns, building a global brand, and everyday automation for marketers. Along with the talks, there'll also be opportunities for networking and discussion groups, together with a dedicated MozCon Facebook group 
When: 1st - 2nd September
Price: Free to live stream the first day ($499 for access to the second day's masterclass and recordings)
Why you should attend: While growth hacking has been popular for some time, many companies are suddenly finding themselves in a situation where they have to grow quickly to survive. Everyone from plucky startups to large established businesses are looking for ways to get the most from their budget.
The GrowthHackers Conference is an online event for professionals and entrepreneurs who want to tap into their full potential for growth, with speakers from a wide variety of companies (such as IBM, Mozilla, and Spotify) sharing their experiences and strategies.​​​​​​​​​​​​​​ 
When: 2nd - 3rd September 2020
Price: Starts at $310.96
Why you should attend: SaaStr Annual is a massive conference for the SaaS community, where you'll get a chance to hear from some of the biggest names in the industry across more than 50 live sessions. This year's speakers include thought leaders Jason Lemkin, Guy Kawasaki, Mark Roberge, and many more. 
However, SaaStr is doing its best to capture the engagement of its in-person events. The 2020 virtual conference will include over 5,000 Braindates, AMAs, mentoring sessions, and 1-on-1s, allowing you plenty of opportunities to have your most pressing questions answered by industry experts. Take into account the daily breakout sessions and networking happy hours, and it's clear there's a lot to gain by attending.  
When: 7th - 11th September
Price: Tickets start at €39
Why you should attend: While the Sydney edition has, unfortunately, had to be postponed, B2B Rocks Paris edition has moved online and aims to help B2B and SaaS founders, with guaranteed "100% no-bullshit." This year's conference has been dubbed the #REBOUND edition, and the focus will be on how founders can recover in the current economic situation. 
Attendees will get the chance to learn from 70 experts in 30 minutes sessions of actionable advice and techniques to implement. Throughout the event, there will also be plenty of opportunities to connect, with virtual networking activities included. 
When: 9th - 10th September
Price: Tickets start at $100 each, with discounts for teams available. 
Why you should attend: Canada's SaaS conference is moving online this year, with a combination of live, 'simul-live,' and prerecorded sessions for your viewing pleasure. The conference aims to help businesses deal with the changing landscape by refocusing and adapting. With speakers such as Rand Fishkin, Hiten Shah, and April Dunford sharing their insights, you know it's going to be good. 
You'll also have plenty of chances to get your questions answered and network with fellow professionals. There'll be Q&A sessions, as well as a virtual happy hour at the end of each day where you can hang out and make new connections.​​​​​​​​​​​​​​ 
When: 16th - 17th September 
Price: Free to register
Why you should attend: The Digital Marketing World Forum (DMWF) is a fully online conference for marketers who want to improve their skills. There will be a mixture of live and on-demand sessions across four conference tracks, covering influencer and social media marketing, content and digital brand strategy, digital experience and eCommerce strategy, and data and disruptive tech. 
With talks from senior marketing leaders, the conference focuses on helping marketers face the new and unique challenges that 2020 has brought about. By the end of the two days, you should have the practical advice and strategies you need to take your marketing campaigns to new heights. Please note that while the conference is free to attend, you will have to go through an application process to attend.
When: 21st - 23rd September
Price: Tickets start at $995
Why you should attend: The Business of Software conference is an opportunity for people in software businesses to hear from top experts and connect with a community of fellow CEOs, founders, and leaders. Over the course of three days, the conference will cover subjects ranging from company culture to growth strategies. 
The Business of Software organizers have clearly put a lot of thought into delivering a conference that makes the most of being online. Proudly declaring itself as not another "Netflix for SaaS entrepreneurs" conference, they've added more interactive sessions with Q&A, exercises, and group breakouts. You'll be able to see the faces of your fellow attendees and participate in the program. They've also implemented shorter days with regular breaks, to prevent Zoom fatigue. At the end of it all, you'll be left with a list of actionable takeaways for your business.
When: 13th - 16th October
Price: Tickets start at $699
Why you should attend: Content marketing is a significant part of most agencies' marketing but, to get the results you want, you need the right strategy. At Content Marketing World, you'll have the opportunity to learn from the best with over 100 sessions, workshops, and industry forums.  
Naturally, you'll also have plenty of chances to chat with your peers before, during, and after the event, with dedicated networking opportunities. By the end of the conference, you have the knowledge needed to implement an effective content marketing plan that'll engage with your audience and grow your business.
When: 2nd - 4th December
Price: $99 for super early bird tickets
Why you should attend: When Forbes declares Web Summit to be "the best tech conference on the planet," you know you're in for something special. There will be over 100 hours of live-streamed content covering 30+ topics, from the latest in robotics to the future of money, so you'll be sure to find new ideas, insights, and strategies to implement by the time you log off. 
The conference will also include workshops for you to develop your skills, adding even more value to a value-packed event. With previous speakers including such big names as Al Gore, Arianna Huffington, and Paris Hilton (yes, you read that right), there's something for everyone. 
Conclusion
It may have been a bad start to the year, both for conferences and businesses in general, including agencies. However, as professionals around the world start to emerge from the shadow of COVID-19, now is the time to rebuild and grow your business. 
By taking the opportunity to attend one of the many available virtual conferences, you can improve your skills, grow your network, and learn the strategies you need to become stronger than ever.