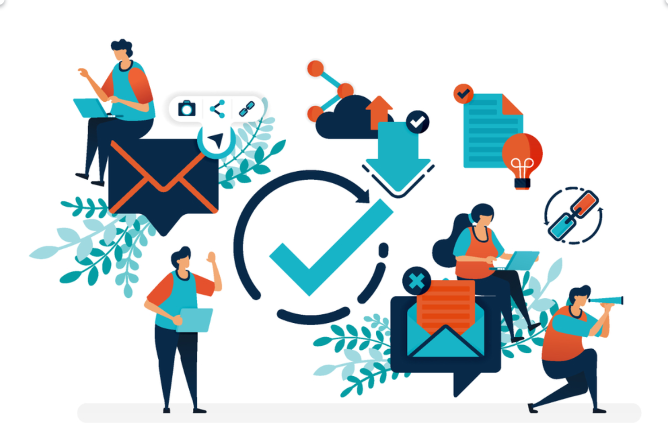 Valid email addresses are very important to establish an impression on the customers' minds and the email address validation tools help in this validation process. Email validation tools help these addresses to get checked and compared with their service providers like Gmail, Hotmail, or Yahoo so that their authenticity can be validated. 
Email lists get overstuffed within short time spans and high email bounces, spam complaints, and least open rates indicate it is time for email list clean-up. This is when email verifier tools help you get rid of poor quality and non-responsive contacts and also help boost the email metrics, which eventually results in a higher deliverability rate and improved sender reputation. 
How will the Email validation tool help you?
The best email validation tools can help you in the following ways:
An email verifier works by taking in an email id to be verified and returns the data of its valid existence. Based on this data, the sender decides to send or drop the emails to the address.
The tool also can check if the email id is a disposable address.
The bulk email verifier will also alert if the recipients are using "catch-all" emails.
The tool ensures that the emails sent do not enter the spam boxes.
The tool also helps lower the bounce rate of emails considerably.
The following data is going to assure the sender that every risky outgoing email is going to get removed from the sender list. As a result, the emails will reach only valid and receivable addresses, which will improve the open rates.
So here are the top email validation tools to verify your emails in 2021
Airborneapp.io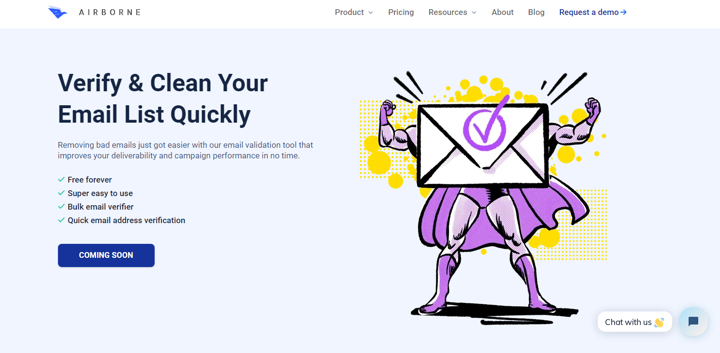 This is one of the most trusted email verification tool that assure a high level of email deliverability. As a bulk email checker, it is not just time-saving but also very efficient. Here are some of its features that make it worth your time and money. 
It offers a quick email verification service that can help you instantly reach your target audience. 
Lets you check the email address validity in minutes and cleans your outdated email lists. 
Ensure clutter-free and updated accounts with escalated reach.
Keeps you away from spam traps and improves your sender reputation score. 
It is an ultrafast, accurate, and easy-to-integrate email verifier tool.
Helps you convert leads into paying customers with its enhanced deliverability and engagement feature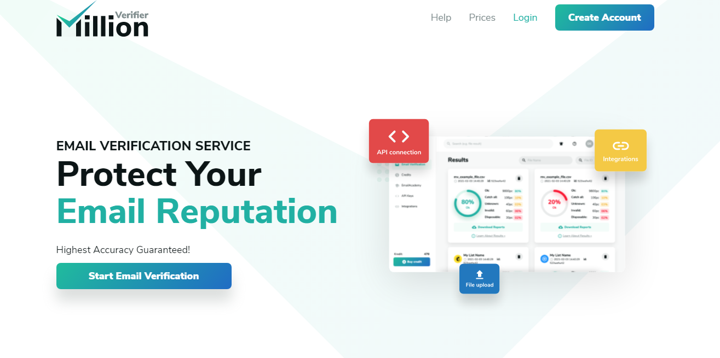 The expert Tamas Szabo is behind the foundation and operation of this milestone bulk email validator tool. Senders prefer this email address verifier because of the following features:
It has an outstanding accuracy of 99% and a bounce rate of less than a percent. 
The tool exhibits quick turnaround time, processing 100,000 emails in less than an hour
Offering real-time email verification service, which is risk-free with a 100% money-back guarantee
Features email duplication removal, catch-all account, and disposable email address detection
It also offers a free trial with 200 email credits
Created to offer the best email verification service, it comes with the lowest price packages. The sender can verify 50,000 emails for just $59. 100,000 emails can be verified at $99, whereas, 1,000,000 can be easily verified at $299.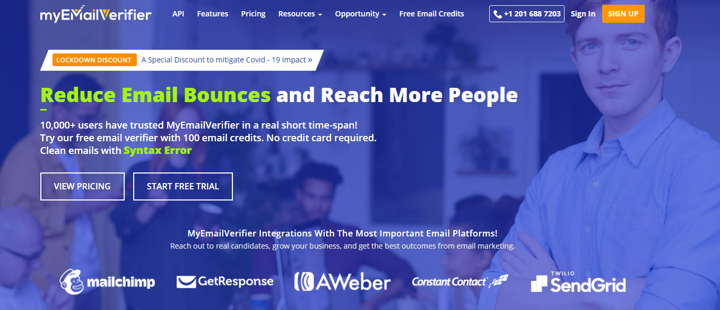 This is a fast yet very simple online email address validator tool, assuring 98% deliverability. The sender can easily boost their leads and focus on sales conversions with its below-listed features:
It can easily identify the "disabled users" present in Yahoo and AOL.
It offers the solution of paying-as-you-go rather than paying upfront.
It can process 1000 emails in 5 minutes.
The sender can access a free trial of 100 initial verifications.
It offers real-time email verification through API
Its features like spam trap detection, detection of high risk emails, toxic domain detection, and catch-all account detection accounts for its best email verification services.
Their basic plan begins at $1.44 for 500 emails and reaches up to $60 for 50,000 emails. There are also plans ranging from $2.88, $12.60, and $21.60.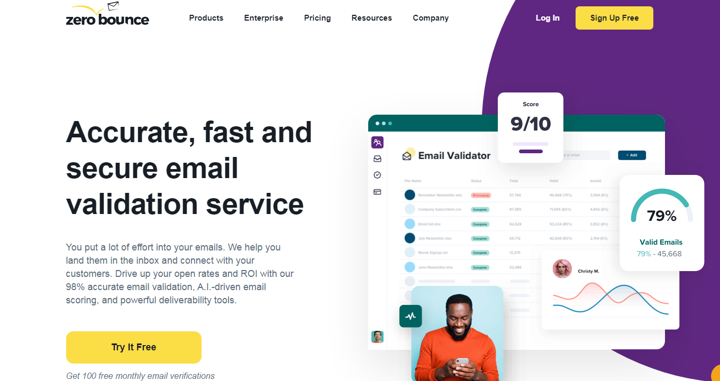 This is one of the leading email verifiers online. They have a system that can accommodate email validation for companies who send complex and high volume emails and help them avoid deliverability issues.
It has 98.8% accuracy.
There are 100 email credits lined up for free trials.
It helps you remove all duplicate emails as well as spam traps.
Appends missing email data, IP information, and removes abuses.
Offers automatic greylist email checking
It offers very affordable plans starting just from $16 for 2000 email credits. There are also options for bulk emails of 100,000 at $390. They also offer a 10% discount to first-time users.
Bulk EmailVerifier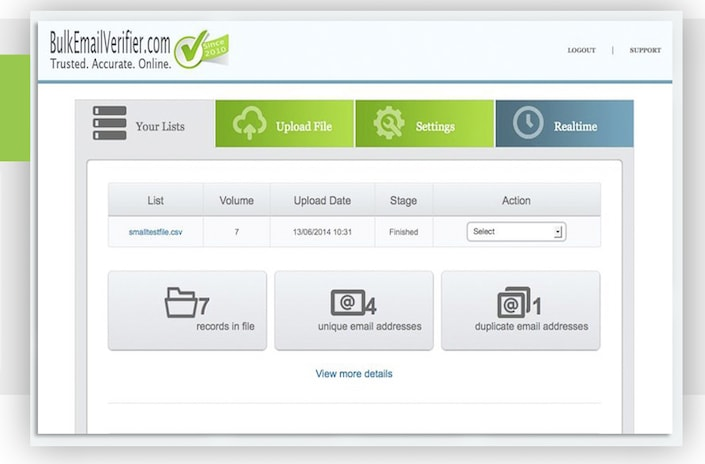 This is a very handy tool for the verification of email addresses in bulk. It allows real-time validation through API or alternatively you can also upload .csv or .txt files smoothly with email lists. 
Offering quick and easy voluminous email validation at a go.
User-friendly and deliver exact results
Accuracy is above 97%.
Removes spam traps.
Their payment plans are also customer-friendly with options of both ad-hoc as well as subscription pricing models. The most basic plan starts just from $79 a month.
DeBounce.io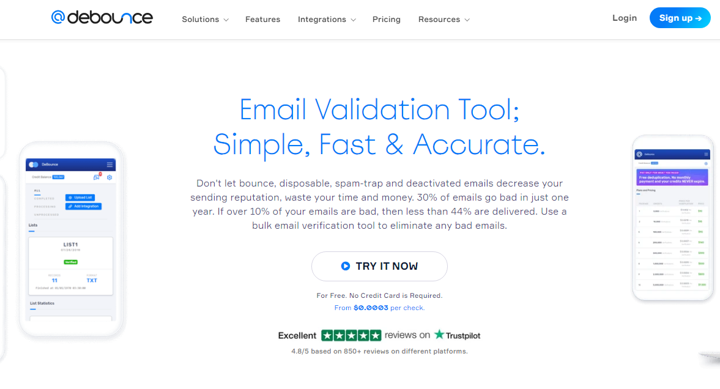 This email verification tool has assured deliverability of 97.5%. With a record of over 1 billion email validations and 5-star ratings, using it will help you by:
Reduces the turnaround time massively.
Simple, fast, and accurate.
Offers bulk validation
Helps you with real-time verification through API.
Quickly removes invalid, spam traps, disposable, and role-based emails from your list
With no monthly payments or upfront fees, the sender can pay as they go. Their plans for 50,000 emails start at just $10. The slabs increase through $50, $140, $500, and $1500.
MailboxValidator.com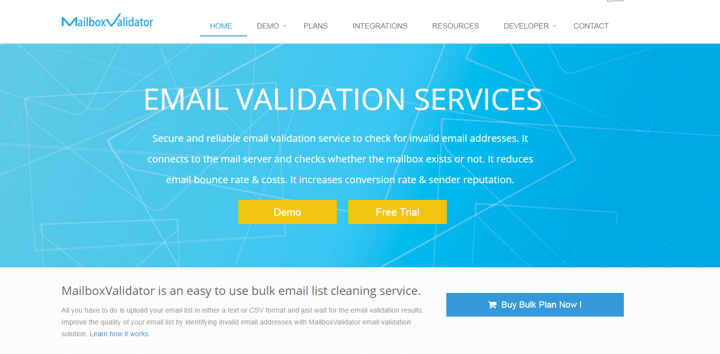 This easy to use platform can smoothly verify valid email addresses in a very short turnaround time. It helps reduce your bounce rate and boosts your sender reputation.
It has a 96% guaranteed deliverability and offers 100 verifications in a free trial.
Allows real-time verification.
It can detect catch-all accounts and suppressed emails, besides checking for bad domains and role-based accounts.
Quick spam trap removal and disposable email address detection
The bulk plan starts at a basic rate of $19.95 for 1000 emails a month and the API plan starts at $29.95 for 3,000 monthly queries.
QuickEmailVerification.com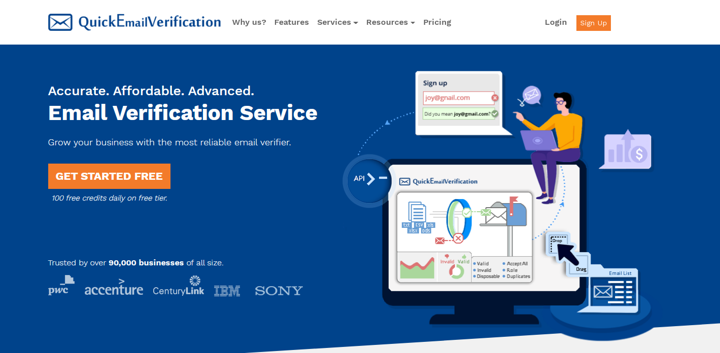 This email verifier has earned the reputation of being the best enterprise-grade email verification service. They can verify bulk emails with real-time verification and batch-processing benefits. Their high accuracy and speed with extensive affordability set them apart from others.
It has complete data security with encrypted data storage.
It has GDPR compliance.
Offers highest free trial credits (Daily 100 credits for free)
Assures 97% accuracy with both real-time and bulk verification API
It can duly check for syntax validation besides their core services.
It can process 200,000 emails in under three hours.
Offer seamless integration with major ESPs
This email address verification service starts at just $4 for 500 emails.
DataValidation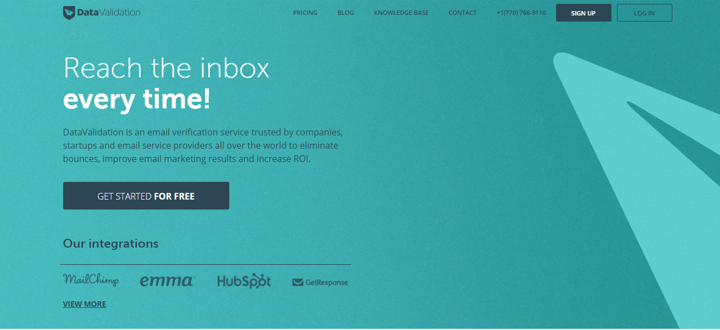 This is one of the highest-rated email list verification service providers around the globe. It majorly focuses on corporate email service providers and marketers and helps them verify their email list quickly and securely with major ESP Integrations or Batch Verification APIs.
99% deliverability guarantee with GDPR compliance.
Advantage of a free list monitoring with autopilot.
Flexibility to choose the region of the verification servers. 
Quick turnaround time of less than 2 hours for 100,000 emails.
No validation limit-you can verify as many emails as you need.
The basic plan starts at just $7 for 1000 verifications.
CaptainVerify.com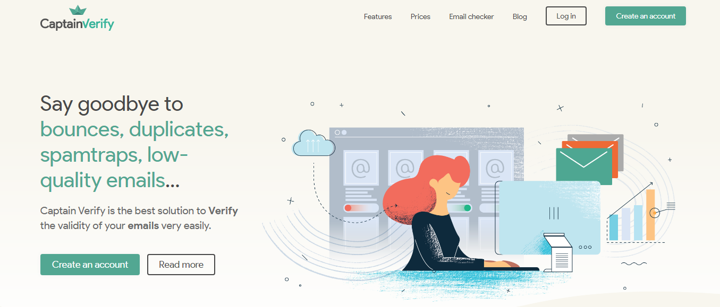 The most easily accessible email verify checker with the assurance of quick deliverability, email verification, and cleaning. This tool has saved many email campaigns from drowning.
It has 96% verification accuracy.
Offers 100 free credits on a free trial.
Real-time API verification.
Double verification feature.
Strict data protection.
Detection of catch-all accounts, role-based accounts, disposable email address, and high-risk emails
It has pay as you go option for payments that begins from $7 for 1000 email checks. The price for 5M email checks is as low as $2000.
Emailable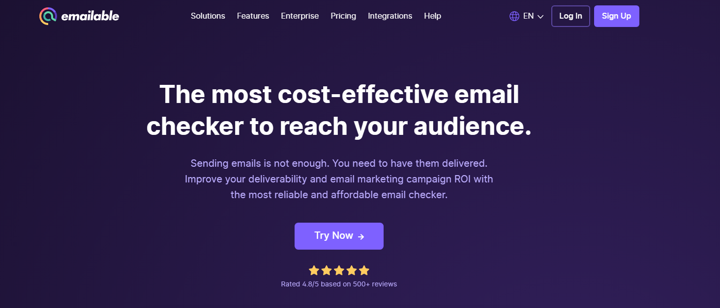 If the senders are looking for the best email verification services to increase their deliverability, then Emailable is their answer. 
With negated bounce rates, you can easily upload lists of email addresses to get them verified. 
You are also not required to import or export details manually and platforms like MailChimp and Shopify can help with easy integration.
Invalid emails will not take long to get unsubscribed from your mailing list with the list getting verified and updated every 30 days to ensure the removal of inactivity. 
They offer two pricing models: a monthly subscription plan or a pay as you go plan. These plans are highly customizable with the ability to scale them up.
EmailListVerify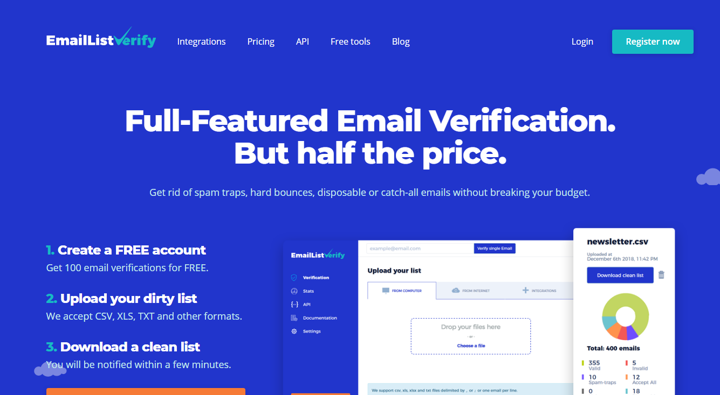 This is a very great tool to streamline your email verification process. It has 8 advanced verification processes, and only a few competitors can reach this level. The sender can be assured that they will be saved from spam traps, disposable, and catch-all emails, hard bounces, and other issues. They have a guaranteed assurance of 99% email deliverability accuracy, guarantees a service of zero false-negative cases, and about a 10x reduction in the bounce rates. Here are some other features of this tool:
It helps in the domain as well as SMTP validation
Offers syntax verification
Spam-trap detection
Detection of catch-all emails
Offers MTA validations
Real-time email checking through API
They have monthly subscriptions as well as pay-as-you-go models.
ListWise

This is a bulk email verification tool that is relatively simpler to use. You can feed in bulk addresses to get them verified within a short turnaround time and minimizes your bounce rates. It has certain lucrative features like:
Obvious typos are automatically corrected at a shot
Removal of duplicate emails from your list
Removal of no-reply emails
Invalid emails are readily removed from your lists with constant list updates at regular intervals
The basic plan starts from $45 for 10,000 verifications.
Mailfloss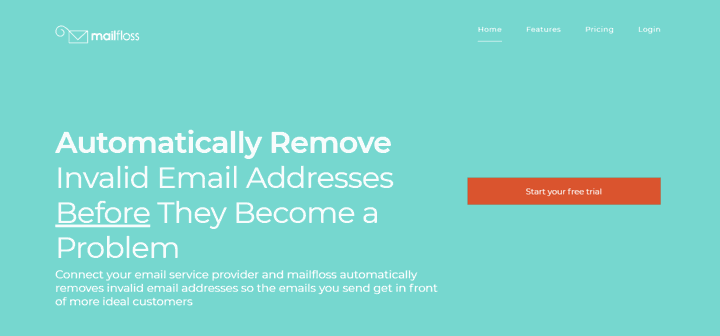 Mailfloss is a very powerful tool that can help you verify emails within minutes while filtering out the invalid ones.
A few clicks can help you connect with your ESP 
The lists can be easily scanned and cleansed thoroughly. 
It can easily integrate with MailChimp, Campaign Monitor, Constant Contact, Ontraport, Aweber, Active Campaign, ConvertKit, and others to verify your email list. 
The basic service plan starts from $17 a month, allowing 10,000 email verifications.
NeverBounce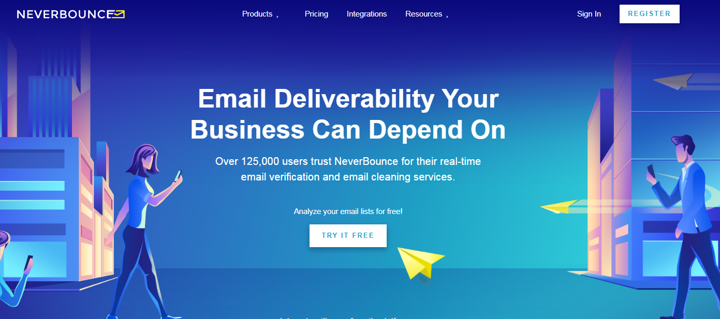 NeverBounce has emerged as one of the most reliable email verification tools. It has a record customer base of over 100,000 users. It boasts of its simplified layout of segregating emails into 5 categories: 
Valid email addresses
Invalid addresses
Accept All addresses
Unknown email addresses
Disposable emails
And this just doesn't end here. It also features over 25 additional advanced metrics. You can verify both single as well as bulk emails through their API and can get 1000 verifications a month for free.
They follow the ad hoc pricing method with the verification cost of one email coming at $0.008 for 10,000 emails. 
Conclusion
Verifying emails has turned out to be an integral part of business marketing. This is because it is hard at times that customers provide their authentic details while filling up the forms on websites or surveys. Sending emails to such addresses can adversely affect your reputation and eventually, your sales. Hence, the best email verifiers keep check on such activities with regular scanning and filtering out the wrong and invalid addresses and helping businesses with only the verified ones. So it is these verified email addresses that ensure the deliverability of your marketing campaigns, leading to their significant success.