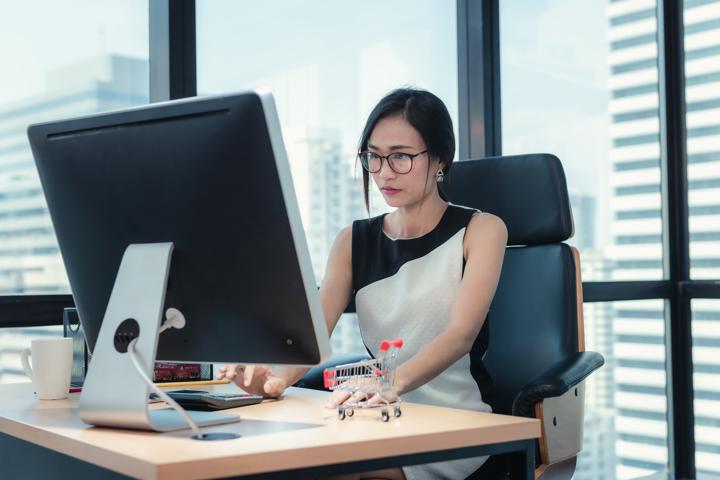 LinkedIn is an invaluable networking tool for people working in sales and marketing. The site boasts more than 690 million LinkedIn members, four out of five of whom make key business decisions at their organizations.
However, the robustness of LinkedIn's engagement also makes it a competitive environment. It can be difficult to stand out from the crowd. That's why it's important to convey your unique value proposition in the first element users will see beneath your photo: your LinkedIn summary.
This brief overview is an opportunity to describe your professional strengths and background and should not be more than 2,000 characters. The summary is multifaceted as it lets you show off your personality, share your greatest accomplishments, and contextualize your professional life.
All in all, your LinkedIn summary forms the bio that predominantly gives an idea about you. Whether you are a job seeker or are a tenured professional, the summary must be vocal about your skill, experience as well as professional bulletins. This is a digital elevator speech that attracts potential recruiters, buyers, or clients. This is essentially important for individuals who believe and rely strongly upon networking. You can be highlighted as a subject matter expert who can be interesting to engage with.
Why is a good LinkedIn summary important?
LinkedIn profile summary may not look as important in the first go, but it is the very first thing that grabs the attention of the recruiter after your headline. So it is super important. It has the power to transform your career and can attract life-changing opportunities. Therefore, you must invest a good amount of time writing it and getting it right. 
A nicely written LinkedIn summary brings high relevance to your profile, makes your profile get accessible by the right kind of recruiters, and differentiates it from your peers, making it stand out. Besides these, here are some other factors for which you can consider having a summary:
Freedom of introduction- This is where you can freely play with your words and create an impeccable first impression. Don't forget to highlight your accomplishments and expertise succinctly as these are the things that get you noticed and show why you are so hireable.
Reveal your personality- A LinkedIn bio is the best way to reveal yourself, by displaying flair and humour, and also by keeping it professional. The recruiters can get a first-hand taste of what you are as a person and can gauge if you are culturally fit for the position.
Rank higher in LinkedIn searches- The better your summary is, the higher will your organic ranking be. Keyword-rich summaries make you more visible to the recruiters and attract higher views. Using keywords like "content", "management," and "analysis" are good to start with.
How to write a LinkedIn summary?
So how can you ensure your LinkedIn bio is attention-grabbing and highlights your standout characteristics? These five tips can get you started.
1. Develop a career story that led you from point A to point B 
The summary is the only place on the profile that lets you contextualize yourself. If you could create an elevator pitch for yourself, what would it say?
Here's the space where you could explain why you changed fields. Or you could include hard-to-quantify details, like passions or motivators, that may be difficult to include in a resume.
Don't try to do too much. Instead, choose a single narrative focus. For instance, you could mention that a passion that led you from childhood through your professional life. Alternately, you could tell a story about what a typical day looks like in your life, both at the office and afterwards. These can be the best LinkedIn summary examples to quote.
2. Appeal to your core clientele 
In a LinkedIn profile summary, like in all writing, audience matters. That's why it's so important to identify your audience before deciding what you want to write. If you're appealing to mid-career executives, you'd write a wholly different summary than if your goal were to connect with the C-suite.
Feel free to address your audience in your summary, though an implied audience works, as well.
Check out this example:
"For the past five years, I've focused on helping mid-career executives plan and implement dynamic career moves."
This makes the audience perfectly clear.
3. Write conversationally about your career history
The LinkedIn summary shouldn't be a copy-and-paste of your resume, nor a self-congratulatory reiteration of your greatest accomplishments. Instead, the best summaries strike an informal tone that describes your career history without bragging.
Take this example:
"My passion is giving brands the tools to discover what stands out about themselves. Helping clients find that insight is what gets me up in the morning."
This writing highlights passion inaccessible, down-to-earth language.
4. Share details about your life, while staying professional
Clients appreciate connecting on shared interests outside of business, like sports teams, hobbies, and family. It's a smart idea to sprinkle into references to what you do outside of the office to highlight your humanity and make yourself open to these more meaningful connections.
At the same time, the key words are "sprinkle in." We've seen dozens of LinkedIn summaries where people share far too much about their kids or passion for soccer—so much that the summary is hijacked by the personal. Remain professional, even connecting your life outside of work to your professional one.
For instance:
"When I was a kid, I played in professional chess tournaments. Turns out I couldn't think under pressure, but I built a skill of thinking steps ahead that has helped me—and my clients—in more ways than I could have predicted."
5. Emphasize your values
Another way to connect with an audience is to demonstrate that you share values. These commonalities not only build connection but also draw in the clients most likely to work with you.
That said, don't overload your LinkedIn summary with values. Instead, organically build in mentions of what matters to you in the story you're telling about yourself.
Try something like this:
"I'm so dedicated to delivering on my promises that you might find me, coffee in hand, hard at work on my laptop into the wee hours."
This example offers a bit of self-deprecating humor along with a core value.
6. Highlight your professional interests
Now is the time for writing a good LinkedIn summary and hence it is better to uphold the professional interests that you have. You can include pointers on what you have done to help others or what goal do you achieve by doing so. This is very different from the skills and does not need to be quantifiable or fact-driven. Interests do not require backed up data as proof. Only the commitment and passion to pursue them are enough.
You can use:
"I have been an interview grooming coach for the last five years and have assisted multiple small teams to optimize their efforts and workflow to crack the job of their dream. I have invested crucial knowledge in making individuals understand and value time and advance their careers on the go."  
7. Speak about your industry expertise
The entire mission of writing a LinkedIn summary can now be bolstered with industry expertise. Two or three sentences can be used to describe the professional background and educational qualifications. For example, if you are a salesperson who is using the platform to reach more leads, you can start by speaking out about your industry expertise and how interested you are in helping people resolve their problems. You must also highlight how well you are available for consulting.
Something like this can be tried:
"I have 9+ years of sales and consulting experience in key account sales and vertical management roles."
8. Include a call-to-action with the contact information
This is the last yet very important point that needs to be highlighted in every professional bio on LinkedIn. A call-to-action or contact information makes it easier to follow up. You can also create a great first impression by including a list of clients that you have successfully worked with.
Try including this:
"Reach me at email@address.com or book your appointment on my calendar here: [CALENDAR LINK]." 
What to put in a LinkedIn summary?
The best LinkedIn summaries contain a handful of sentences about your years of industry experience, area of expertise, organizations you have worked with before and maybe the skills you are known best for. Here is everything you can list that can be described within 30 seconds:
Demonstrating your passion- A profile with an honest description of the passion will definitely attract the eyes it is meant for. With talking more about your passion, a grip over your expertise can be felt.
Speaking about your prospect's pain points- Through this, you can speak to your prospects directly without letting them know how well you know their pain points. In such cases, you will be portrayed as a solution provider rather than a product seller.
Showing some personality- Showing personality in the summary will ultimately make the profile impressive, thus drawing in more trust from prospects.
What not to put in a LinkedIn summary?
After getting a hold of how best LinkedIn bios should be, you should also consider things that you should not write to avoid ruining the bio.
Cliché terminologies- Bios that are devoid of terms like "guru" or "master" are good to go. Such terms are subjective and do not portray the actual abilities.
Spelling and grammatical errors- It is natural to commit mistakes but it is also required to check it twice before posting anything online. Any error in summary can challenge your credibility and distract the opportunities that are coming your way.
The resume- Copying points from the resume is a very big turndown for anybody viewing the profile. Try providing a brief introduction that is fresh and crisp.
LinkedIn summary examples
Indicating that you are their right pick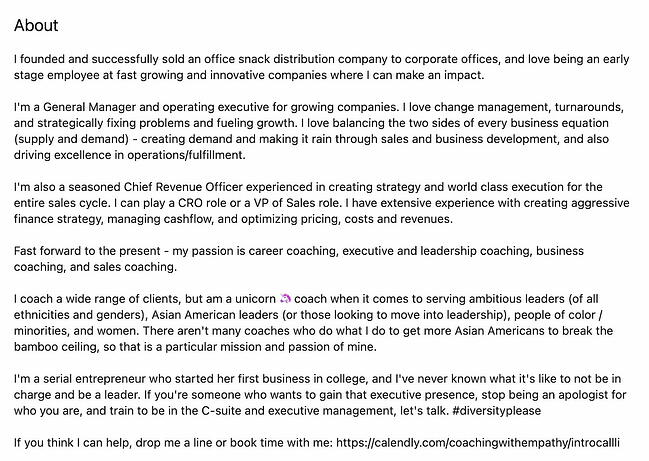 By calling them out, they can self-identify you with the message you want to share. You can easily do this by identifying the buying persona you are targeting and describe them in your LinkedIn about us section.
Making yourself approachable
It might seem untraditional to open yourself freely mentioning your personal hobbies, but that is also how you make your prospects comfortable with you. This way they can connect with you on personal grounds.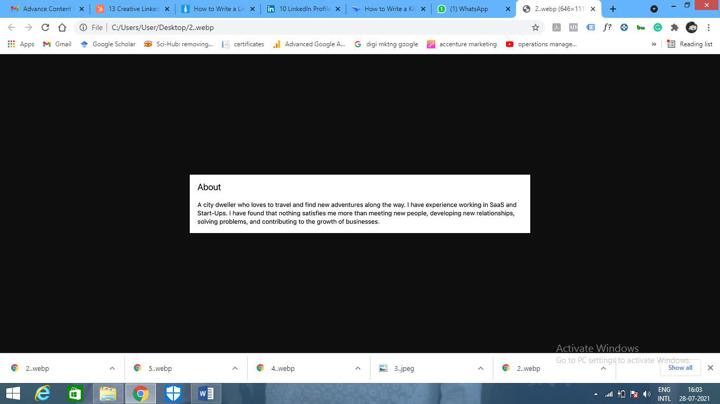 You can mention multiple stories that resonate well with the prospects. This reveals their professional values and their mission as an individual.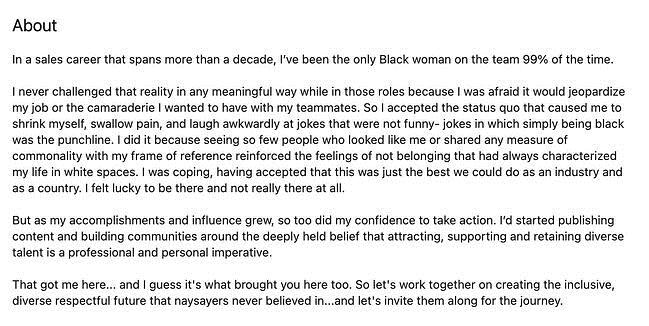 Prospect engagement makes the business more personable through interactive videos or posts. This way, everybody can know you personally.
The readers can be intrigued by mentioning how exciting of a career you had in the past and what you are currently eyeing at.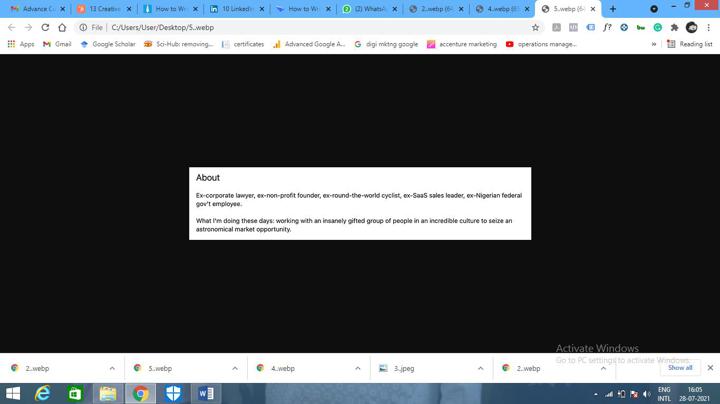 Now, go write your own LinkedIn summary 
Your LinkedIn summary can make or break your first impression. Compelling summaries foster new connections, while poorly-written or unappealing ones make no impression or, worse, a negative one. Remember to highlight who you are and what you can offer to your specific clientele. If you hit the right notes in your LinkedIn summary, someone browsing your page will be inspired to read the rest of your profile—or set up a meeting!