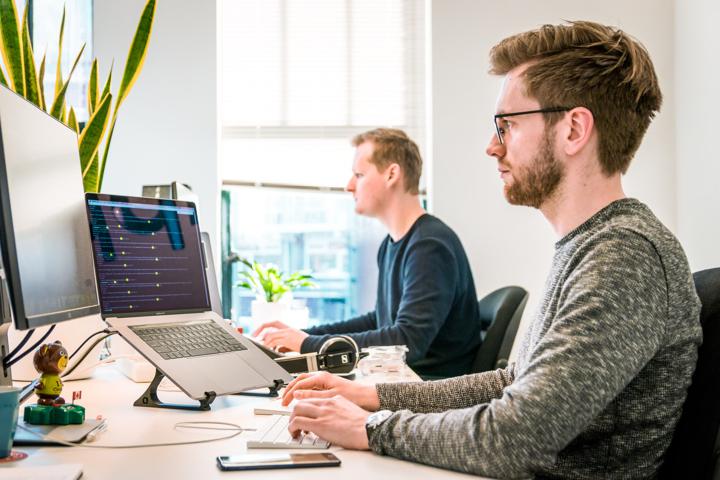 Setting up a sales team involves many aspects like the industry, product type, target audience, pricing, and so much more. You also have to decide on inside sales vs. outside sales and which one is important. Where one focuses on clients with high acquisition costs and high annual account value, the other simply targets high sales velocity. Though it is often argued that both sales types are different, today, you require both to succeed and will have to establish the right balance between the two to derive results. 
So understanding the nitty-gritty of inside sales and outside sales is going to help your business master it swiftly.
What is inside sales?
The inside sales or the remote inside sales is the concept that involves selling right from the office premises, directly from the desk of the sales representatives. There's no face-to-face selling. The sales take place through the effective utilization of available communication tools like:
Phone
Email
CRM platforms
VOIP and others
The inside sales teams are very common across all the businesses and have emerged as one of the top sales models in B2B selling for SaaS and tech industries. The concept of inside sales differs from telemarketing which is entirely scripted. The inside sales require skilled professionals to carry out sales over the phone, Skype, email, or any cyber-communication medium. Sales reps combine CRM platforms with outbound tools to conduct these inside sales.
What are outside sales?
Outside sales or field sales is the method to sell the products and services by actually stepping out in the market and meeting with customers. This method offers a personalized sales experience to your current and prospective clients. This type of sales does not require the sales reps to work in-house.
The outside sales strategies often require the reps to become proactive sellers as it involves a lot of travel, autonomy, and emotional intelligence. Also, they deal with larger and more expensive accounts than inside sales reps do. 
With advancements in technology and the internet today, a large portion of these sales can be conducted right from the office. However, what sets this outside sales process apart is their flexibility and willingness to meet their clients in person whenever and wherever needed to achieve sales.
Key differences between inside sales vs. outside sales
There's a lot more to inside sales and outside sales besides remote and face-to-face selling. Here's how both stand different:
Sales tools
The most significant difference between inside sales and outside sales lies in the technology each of them uses to conduct sales. The inside sales teams rely more on technology like CRM systems that offer seamless client management, email functions, reporting, and team management. 
However, the outside sales team does not significantly depend on CRM software. Instead, the outside sales reps believe more in conducting on-site demos, setting up conferences and managing booths, participating in virtual trade shows, and proactively communicating with their clients.
But the technology that makes both the inside and outside sales working together today is the online platforms offering voice, video, messaging, email, and virtual meeting features to set up client meetings.
Sales cycle
The sales cycle for the inside sales and marketing team is very short and predictable. It is because they work more methodically and on a well-defined path. The lead score automation and reporting are done using the dedicated software that allows the reps to nurture more leads without wasting time. But this is not the case with the outside sales team. Outside sales reps focus more on face-to-face interactions to make the sales happen efficiently, but the results are often full of surprises in their case.
Scaling capabilities
The scalability of inside sales vs. outside sales varies significantly because of the usage of technology by the specific teams. Inside sales offer better scalability as they use new and upgraded tools for inside sales automation. The reps connect with thousands and hundreds of potential customers at an instance and greatly focus on building valuable relationships. But the outside sales reps, on the other hand, can only attend a single or a small group of potential buyers at a time. 
Skill Sets
Both inside sales and outside sales have different skill requirements. Although both teams are required to be highly customer-focused and result-driven at every point in their work, the inside sales team structure is built in a way that requires excellent skills for using virtual communication tools and platforms. This includes texting, messaging apps, social media, emails, and live chat. Along with this, they also need to have a high level of focus, the ability to follow instructions, and using process-driven sales strategies. In comparison, the outside sales reps must have a high level of situational awareness, emotional intelligence, and the ability to think quickly and keep the conversation going.
Which one is right for you: Inside sales or outside sales?
Inside and outside sales have always been a sustainable growth strategy that has helped sales-led organizations reach their pinnacle of success. There is no single specific strategy that can be used at once, and the approach should always be kept objective. Irrespective of what strategies the business has been using, the performance of the same needs to be measured to understand its efficiency. The best strategies that can be used are:
Self-service portals
Inside sales
Outside sales
Inbound and outbound combined
The necessary performance data is mostly available with every business but what they lack is the capability to implement the data to learning. The sales teams can be taught about these tactics based on the technology implementation, and that would determine how well they can close their deals.
However, the choice between the inside sales vs. outside sales needs to be made based on various factors like the target audience, business model, and industry occupied, etc. For example, high involvement products always demand the reps to visit their clients personally and provide a demo to attain larger effectiveness. But low involvement products mostly call for virtual conversations for conversion.
SaaS or B2B industries demand more of a digital approach to categorically meet and reach more prospects at any given point in time. But this method does not apply to smaller-sized companies always.
The best approach is subject to discussion based on the cost and scalability the business can be flexible with.
Who is a sales rep? Why is he important in inside and outside sales?
The external or internal sales executives, commonly known as sales representatives or sales reps, are the people designated to sell the products and services of their organization. They are entitled to move the business products directly into the shelves of the end consumers. These individuals are highly critical to both the manufacturers and the wholesalers because their job role includes them to promote and merchandise their products.
Among the many responsibilities, an inside sales role comes with the following important tasks:
Demonstrating superior product knowledge remotely.
Building trust and rapport with the potential customer base.
Nurturing leads and managing referrals for future lead management.
Closing customer deals.
Preparing and reporting on relevant sales data.
The outside sales positions in most of the companies demand the reps to meet the following responsibilities:
Travel within a stipulated territory to meet the clients and close the deals.
Repeatedly engage in face-to-face interactions with clients.
Build and maintain relationships with existing and new clients.
Keeping records for the sales taking place.
Enlighten clients on product benefits educationally as well as professionally.
Closely monitoring the competitor's business.
For the following responsibilities assigned to each team, each of them forms an integral part of the company and its future.
The skillset necessary for inside sales
The below-listed skills are most important to implement the inside sales strategies flawlessly:
Product knowledge- It is a critical skill desired out of the sales reps. Having the product knowledge will make it easier to answer every customer query and would benefit from selling the product.
Communication skills- Verbal and written communication skills are essential to work successfully in inside sales as it mainly includes pitching over the phone or emails.
Active listening skills- It helps sales reps understand the needs and demands of the clients just by listening.
Organizational skills- It helps efficiently maintaining multiple accounts together.
Time management skills- One who can best manage the time is going to best deal with multiple clients at an instance and make additional sales.
CRM tool skills- Most of the sales reps' work depends on CRMs and understanding these tools will help them convert more accounts into loyal customers.
The skillsets necessary for outside sales
There are very few available outside sales software, so sales reps need to rely on their skillsets to convert more leads. The below-listed skills are required to outperform in field sales:
Communication skills- This skill is highly essential to convert sales while meeting clients in person. This also includes writing as well as presentation skills.
Prospecting skills- It must be a strategic approach to identify better opportunities over others.
Discovery skills- It involves acting intelligently across situations, identifying particular buyer needs, and following up with the prospects at regular intervals.
Business acumen skills- It is critical for the rep to understand annual financial reports or factors affecting the market demand.
Social selling skills- They should know how to start a conversation and seal the deal.
What do inside and outside sales reps do?
The inside sales position majorly demands them to work remotely by using communication tools like phone, internet, or video call. As a result, they are much more focused on social selling. But the outside sales reps need to designate a quantifiable amount of time on the field through selling through conferences, trade shows, personal engagements, and visiting customers. But with times changing, they are also focusing more on remote selling.
Sales strategies for inside and outside sales teams
The best applicable strategies for inside sales vs. outside sales are:
Bearing thorough product knowledge to answer any queries pointing towards you.
Creating effective buyer personas to hold multiple demos at a given instance.
Using effective business communication templates to help break the ice.
Using time effectively and wisely with proper planning. More time in hand would call for meeting more clients.
Calling and meeting clients just at the right time increases the chances of conversion by many folds.
Selling on the first meet or call is a big setback and must be diligently avoided. Giving some time to the buyer would help build rapport and trust.
Digging in a little to extract their personal information is going to help communicate better with the clients.
With both inside sales and outside sales methods being equally unique and effective, every business must be explorative enough to understand the scope of these tools. Blindly following the strategies would not help bring any notable success to the sales teams. Besides these, agencies can use other popular and effective marketing and sales tools to scale up their results and determine what works best for their business. The implementation of the sales tools also largely depends on how much agencies can scale their expenditure and afford a large and efficient sales team.