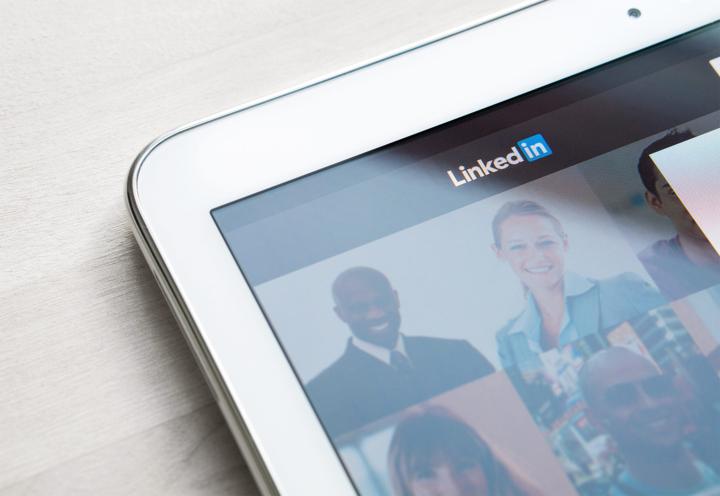 With over 600 million users, LinkedIn has become a popular hangout for professionals from all over the world. Built off of the network, there's also the powerful Linkedin Sales Navigator—a social selling platform that allows salespeople to find prospects on LinkedIn.
However, many people aren't sure how to best use Linkedin Sales Navigator for prospecting, which is a real shame. The amount of data businesses and professionals share on LinkedIn makes Sales Navigator a gold mine—if you know how to use it correctly. 
Even if it may seem complicated at first, it's actually easy to start finding ideal prospects. Here are some of Sales Navigator's key benefits and how you can use them to find prospects on LinkedIn.
Get comfortable with Boolean operators
Sales Navigator comes with a powerful search function to help you find prospects. However, with a standard search, you'll also get plenty of irrelevant results—maybe junior positions, assistants, etc. People also often phrase their titles differently, so it could take several searches for different titles to get all the prospects you want. 
However, it's possible to get more relevant results by using Boolean operators. While that might sound complicated, it's just a way to refine your search by adding a few keywords: AND, OR, and NOT. While AND doesn't change the results for LinkedIn (where results are returned for all terms in your search by default), OR and NOT can make a huge difference to your results.
OR - Use it to find alternative titles, e.g. Director OR Manager
NOT - Use it to get rid of irrelevant results, e.g. Director NOT Assistant
Once you get the hang of boolean operators, it's possible to use multiple operators in the same search. By using quotation marks to search for exact terms and parenthesis to combine terms, you can get really specific: Finance (Director OR Manager) NOT (Junior OR Assistant)... and so on. 

With enough practice, you can build a complete prospect list from a single search. 
Access more insights when prospecting
There's a lot more you can learn about companies when you use Sales Navigator, and you can have those insights waiting for you when you sign in. Your home page can be customized to show you specific updates and insights for your saved leads and accounts. It can alert you to job changes and news, as well as informing you of any suggested leads that match your criteria.
You can also get more data directly from a company's page. One particularly useful insight for finding ideal leads is seeing what kind of headcount growth a company is experiencing. 
From there you can use those insights to add potential prospects to your Sales Navigator leads list.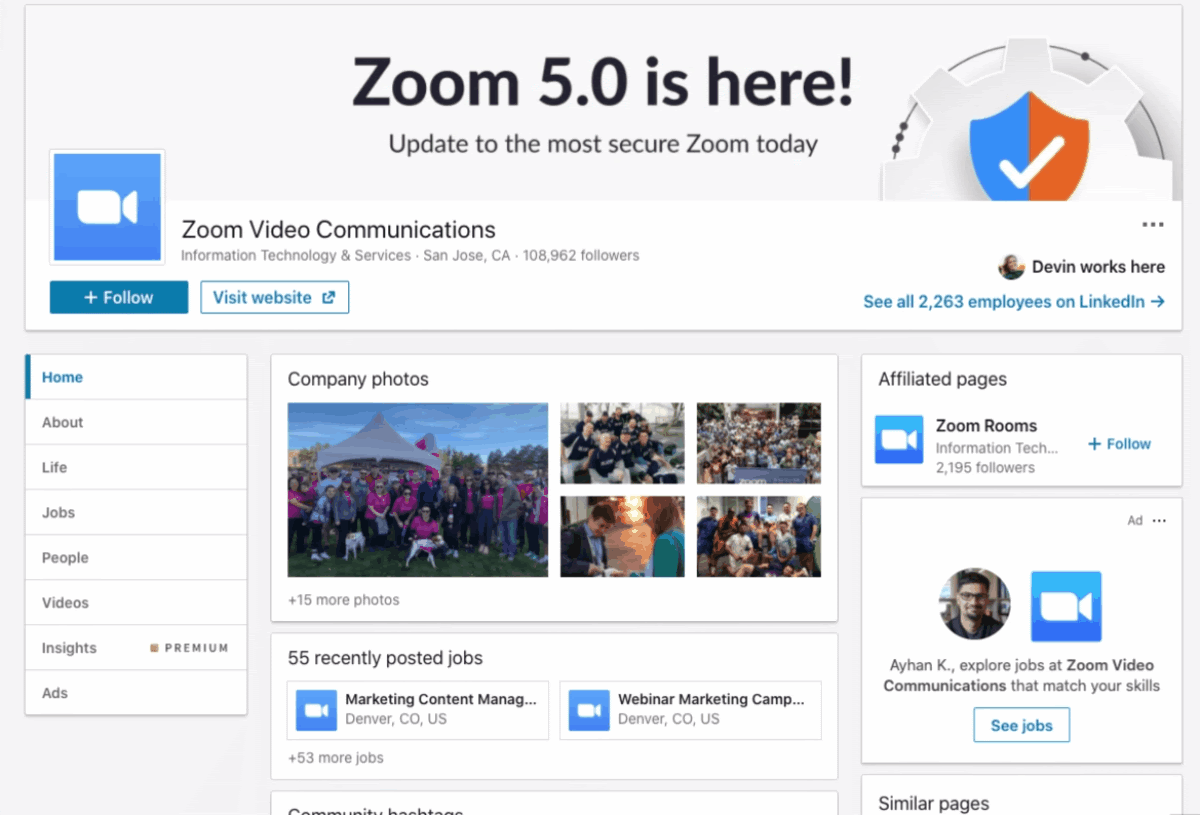 Integrate with your CRM to improve sales
Sales Navigator is great, but it's even more helpful when you integrate it with your CRM. By automatically sharing information, you save time copying and pasting between different apps. More importantly, you can be confident that you have all the correct information to hand, wherever you are. 
Integrating Sales Navigator with your CRM allows a two-way flow of data; all the relevant information you uncover in Sales Navigator is logged your CRM, and accounts, contacts, and records from your CRM can be imported into Sales Navigator. 
With all that information now easily accessible, you can quickly see what prospecting efforts have the best effect and keep track of how leads progress through your funnel.
Whether you want to make use of Sales Navigator as a widget within your CRM, or you want to just have all your important information synchronized, you can set up the process whichever way works best for you.
Currently, the following CRMs offer integration with Sales Navigator:
Filter your results for better leads
Along with the search terms you use, you can also use Sales Navigator's advanced filters to further refine your research results. For example, you can look for prospects who are established and have been in their position for at least a year, or you could search for those who've recently switched jobs and might be looking to implement new changes. You can search by seniority level and target decision-makers, or for those who've posted on LinkedIn recently and are active on the platform.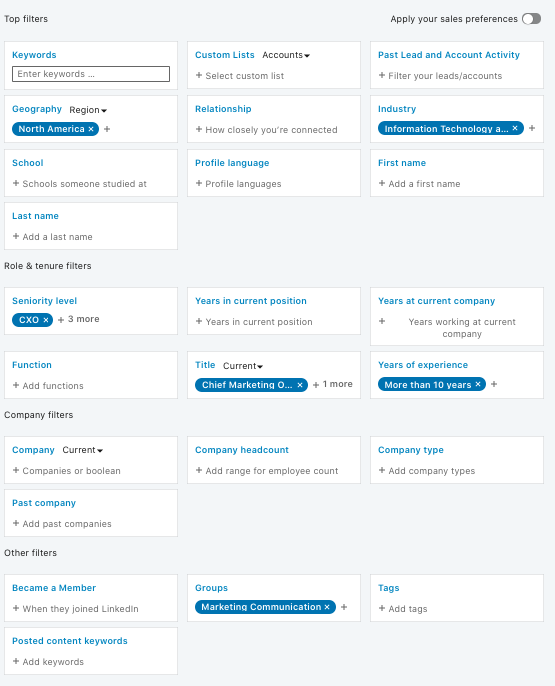 Just as importantly you can also choose who doesn't show up in your results. By choosing to filter out previously contacted leads, you can save yourself time (and potentially some embarrassment too). 
When you've fine-tuned your filters and perfected your search, make sure to save it. Not only does that save you having to re-write your search every time you want to run it, but you'll also automatically receive alerts when new people match your search. 
Enrich your prospects
As we've already seen, you can get a lot of information from Sales Navigator. However, by enriching your data, you can unlock even more possibilities and contact information for your leads. 
There are plenty of options for contact enrichment out there, but I recommend you start by checking out LeadIQ, ZoomInfo, and Lusha. These tools will scour the internet and scrape data for your new leads, filling in the gaps in your knowledge so you're completely prepared to wow them with your pitch. 
Conclusion
Sales Navigator is a seriously powerful tool, with a mind-boggling amount of features. However, you don't have to be a certified expert to start getting great results. 
By understanding how to use the search and filter functions to find our best leads, looking for actionable insights on companies, and acting on enriched data, you can build a list of highly qualified leads that are perfect for your company.  
Ready to get the most out of those LinkedIn leads? Airborne is sales engagement purpose-built for agencies. Talk to an Airborne Specialist today to get access!