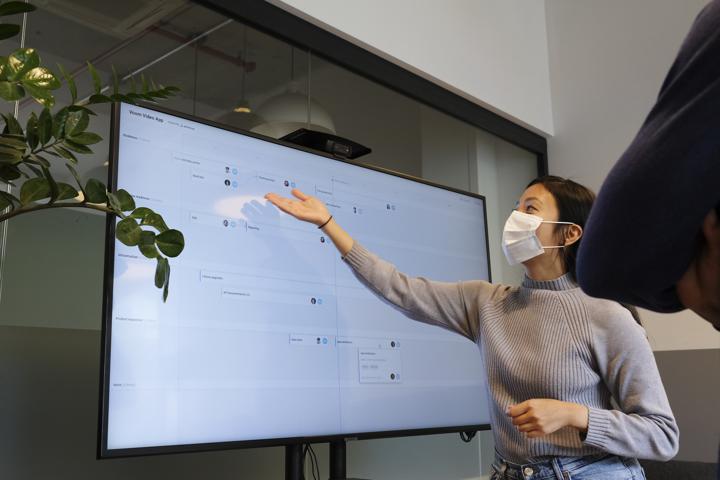 We've all seen the differences between winning sales presentations and less-than-memorable ones. Successful presentations engage the audience from beginning to end by articulating a clear problem relevant to the client, describing how a product or service would solve that problem, and then explaining how the client could make that possibility a reality.
We've also seen presentations that are not as compelling—and that's to say the least. Hallmarks of ineffective presentations include too many details that disengage the audience, meandering content with no clear directive, or a failure to describe the customer benefit.
Whether you're connecting with a client in person, on a video call, or over the phone, there are a few ways you can make sure your sales presentation is one to be remembered.
Here we go.
1. Grab attention early 
Your clients will be much more likely to engage with your presentation if you give them a reason to listen right off the bat. 
That's why you want to illustrate the change they can expect to see by using your product or service. You can accomplish this by including a persuasive case study, a compelling statistic, or a promise that you'll then elaborate on throughout your sales presentation.
2. Move through the four stages of persuasion 
Less-successful presentations don't include the four stages of persuasion, or they languish too long on one of the stages. The key is to touch on each, and to do it all efficiently.
Here are the four stages you need to know:
The opening. This is when you introduce yourself, compel your audience, and articulate why it's worth their time to listen to you.
Demonstrating you understand your client needs. Likely the most important part of the presentation, this section shows that you understand your client's needs and how they can benefit from what you have to offer.
Providing evidence. You can have the most compelling offering, but without evidence that proves that your product or service has solved others' issues and will solve this client's, then that offer is meaningless.
Closing. If you've done your job, you won't have to use a hard sell as your closing. Instead, the presentation will conclude naturally.
3. Use visuals to support your presentation
We've all seen that presentation where the speaker put everything they were saying onto slides. This is absolutely what you don't want to do. 
Instead, you should include as many pictures and images on the visual component of your presentation, along with removing as much text as you can. A combination of visuals and text "increases understanding and retention."
4. Include demonstrable evidence 
Including a value proposition is a key part of any presentation, but that's not as important as providing proof that you can actually deliver what you're offering. That means you should include statistics or quantifiable results about the changes your current clients have been able to make using the product or service you're offering.
5. Keep your listeners engaged with stories
As persuasive as statistics are, they shouldn't be the focus of your presentation. Listeners are more engaged if you tell a story with a beginning, middle, and end. So, for instance, you could keep returning to a case study several times, to show how your offering solved a problem. Create a balance between compelling, specific stories and providing factual, irrefutable information.
6. Limit your sales presentation to nine minutes
Everyone likes hard and fast rules when creating presentations. Here's one you can use today: Most sales reps recommend creating presentations that are no more than nine minutes. Aim to move through two or three slides every minute, and you'll be golden.
Use these tips to win your next sales presentation
Now that you know the steps behind a compelling sales presentation, apply them to your next pitch. While these are key pieces of advice, they are general enough that sales reps still have enough room to make them their own. Your goal here isn't to emulate a famous presenter but rather to make your presentation the best it can be—without modifying your personality.