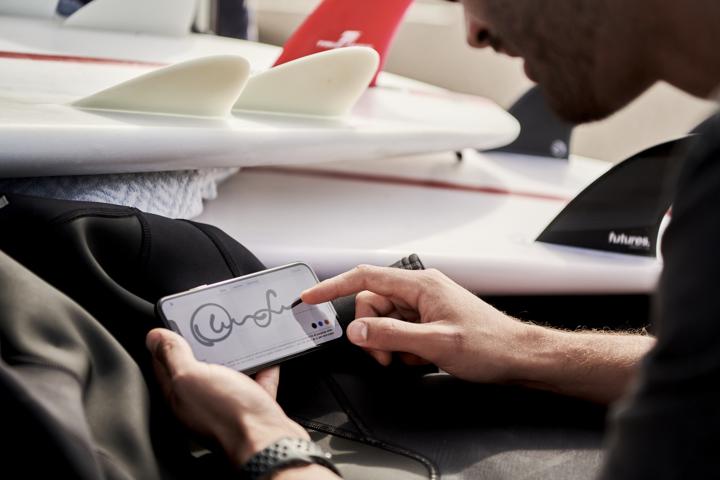 As a sales professional, you send out tons of emails every day. While you labor over the subject line and the messaging, you might be overlooking the importance of your email signature. It makes the critical first (and second, and third) impression that can help you accelerate the "like, know, and trust" factor—which establishes your relationship and, ideally, leads prospects down the sales funnel.
A well-designed signature is particularly important for sales emails. It can enhance your credibility, help you build trust, and encourage recipients to respond to your message. It also gives prospects the information they need to reach you and learn about your offerings, so they're more likely to continue the conversation or request a meeting.
Here are some email sign-off best practices and examples you can use as inspiration to create an effective signature for your sales emails.
1. Focus on information that matters
Instead of piling on everything and the kitchen sink, keep your signature concise. Include only information that's relevant to your prospects, such as your name, position, company, and address. (This, by the way, is required for all emails by the CAN-SPAM act.) Your email signature should tell recipients who you are and why they should get in touch with you.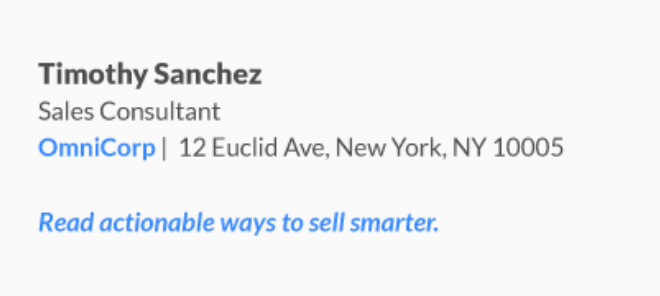 2. Connect your name with a face
We all get so many emails every day.
That means your prospects are getting lots of emails, too, but most of them simply fail to capture their attention. Including a headshot in your signature can add a personal touch, help you stand out, and build trust with prospects. Use a high-quality photo that's professional and approachable to make you more memorable.
3. Link to your social media profiles
Including your social media profiles is a great way to invite prospects to learn more about you and your company. It can help you build instant credibility without loading up your signature with too much information. 

Make sure to tighten up those social media profiles to present a consistent and professional image.
4. Prompt an action from recipients
Add a call-to-action in your email signature to get more prospects to call you, book a meeting with you, or request a demo.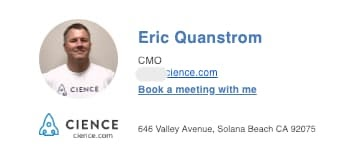 It's best to include a calendar link in the signature so you can streamline the process and eliminate unnecessary back-and-forth messages that can increase friction and cost you opportunities.
5. Include testimonials, ratings, or awards
Social proof can make a positive impression in just a few seconds to build instant trust and increase the response rate. Besides customer testimonials or ratings, you can include awards, honors, and mentions that you or your company has won to communicate authority and credibility through your email signature.

6. Promote your content or lead magnet
Content marketing is proven to drive traffic, build trust, and lead prospects down the sales funnel. Add links to the latest blog posts, press releases, webinars, or lead magnets (e.g., an ebook or whitepaper) to demonstrate your expertise. 

Keep in mind that less is often more—edit your signature to show only a few items that are most relevant to the email recipient.
Turn your email signature into a sales tool
A well-structured email signature can increase the effectiveness of your sales email. This valuable real estate on your emails should be put into good use—take 10 minutes right now to upgrade your email signature and reap the benefits for a long time to come!